Walking Route Amsterdam Canals
Discover the beautiful canals, World Heritage during this city walk. Be your own guide!
City walk with places of interest
The walking route leads you along places of interest such as the Golden Bend, the Aalmoezeniers orphange and of course the canals Herengracht, Keizersgracht and Prinsengracht! Also: Magere Brug (skinny bridge) over the Amstel river, the City Archives and the Miracle of Amsterdam. Discover more than 400 years of cultural heritage!
Be your own guide
The city walk along the Amsterdam canals consists of a map with the walking route and stops clearly marked. At each stop you will read interesting information, nice to know things and a clear route desciption to the next stop. Receive the route by e-mail and decide when you want to walk: you are your own guide!
Order the walking route
The walking route costs € 3,00. Fill in the form below and receive the city walk along the canals by e-mail. Use the file on your phone or print it in handy A5 size.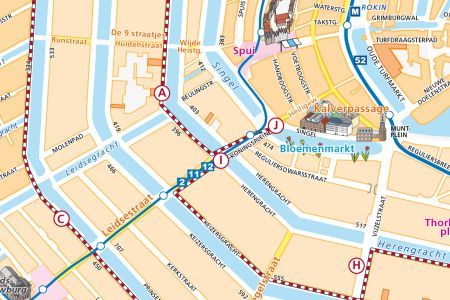 "Thank you very much for the walking route. The map is so nicely detailed. If you have more routes, I am recommended!"
More city walks