Walking Route Jordaan
Discover Jordaan neighbourhood and the northern canals. Be your own guide!
Jordaan history in short
The walking route leads you through the charming Jordaan neighbourhood, first multicultural neighbourhood of the Netherlands. Built between 1613-1625 for the working class, it soon attracted attracted refugees from Belgium, France, Spain and Portugal seeking freedom of religion and speech. Living conditions were bad: open sewers, no running water and families with 8-10 children living on just one floor or even in one room! The area was severely bombed during World War II, that's why rather new houses stand next to old houses. Since the 1960s the situation improved and the area attracted hippies, artists and students. More recently small houses were transformed into luxurious lofts and nowadays the Jordaan is one of the most expensive areas of Amsterdam.
City walk with places of interest
The route leads you along places of interest such as charming courtyards, impressive churches and (filled) canals. Discover former working class houses and impressive 18th century canal houses. Learn about the riots and revolts and famous inhabitants of the Jordaan neighbourhood.
Be your own guide
The city walk through Jordaan area consists of a map with the walking route and stops clearly marked. At each stop you will read interesting information, nice to know things and a route desciption to the next stop. Receive the route by e-mail and decide when you want to walk: you are your own guide!
Order the walking route
The walking route costs € 3,00. Fill in the form below and receive the city walk of the Jordaan by e-mail. Use the file on your phone or print it in handy A5 size.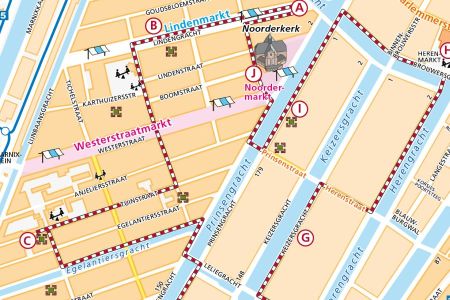 "Thank you very much for the walking route. The map is so nicely detailed. If you have more routes, I am recommended!"
More city walks